---
Asus has a long history in the gaming industry, both abroad and here in India. It has made a name for itself in mobile gaming with the ROG Phones. High-end specifications are rare in a premium flagship, and the phone has a sporty look that should appeal to gamers. Asus has done it all with the Asus ROG Phone 5.
Asus ROG Phone 5 Design
Every year, Asus tweaks the ROG's appearance yet maintains it intact. Meanwhile, it appears to be more upscale and aggressive; it may be a favorite among mobile gaming enthusiasts. A design with a more gamer-centric geometric cut and a robust chipset. In addition, the red hue on the power button, back, and SIM card tray contribute to its unique appearance.
ROG phones make their presence felt. The same can be said about the ROG Phone 5. It boasts a glass design similar to that of earlier ROG smartphones. The sides are rounded, and the entire rear is composed of a single, smooth glass slab (except for the camera bump). Due to the new off-center branding and outward camera module, the phone's back panel feels more premium. The overall aesthetic is appealing.
Like previous ROG phones, the new dot-style logo matrix also looks fantastic. It is more refined, with the ROG logo and specific design elements added. Includes a dual-firing speaker and a sensor for the front camera. The phone's volume rocker and power button are located on the right side. The phone is equipped with a primary microphone, 3.5 mm headphone jack, and USB-C port.
The GamingBar 2.0 solution is similar to the CameraBar solution from late last year, which transforms the frame of your phone into a zoom slider. It enhances the sensitivity of the ASUS ROG Phone 5 series. It enables customization options, such as dividing a trigger into two distinct inputs. AirTrigger 5 allows you to map up to 18 unique touchpoints on the screen, and it may also be utilized outside of games.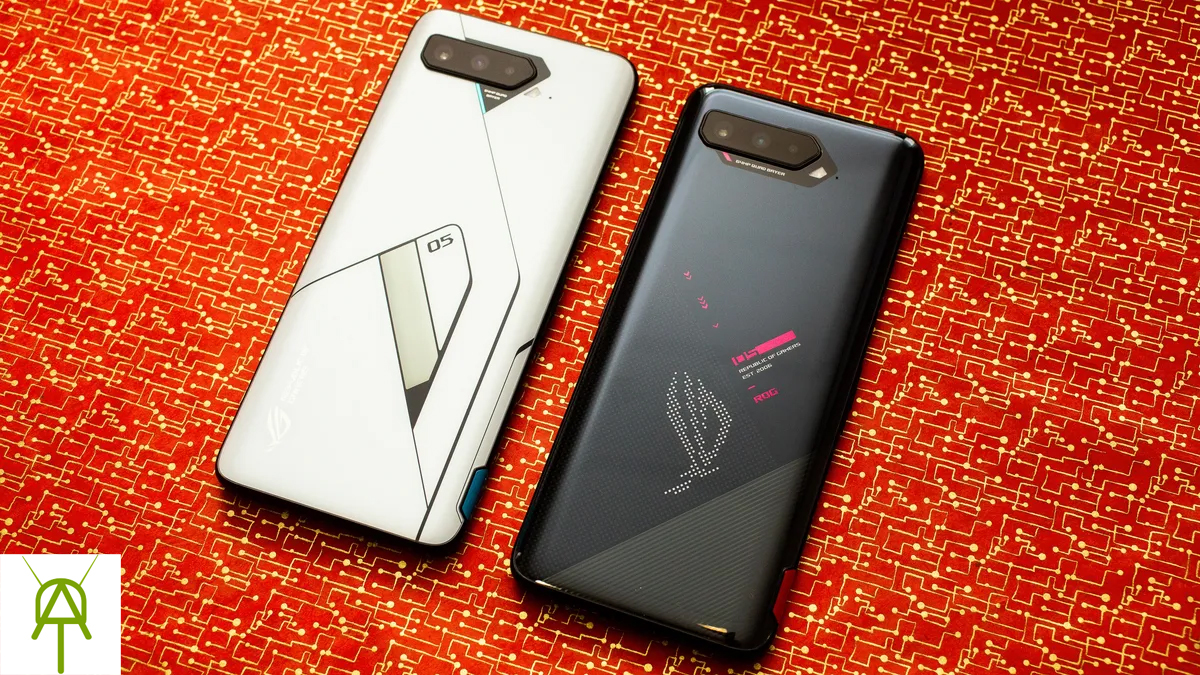 Asus ROG Phone 5 Display
The ROG Phone 5 has a 6.78-inch Samsung AMOLED display with a resolution of FHD+. This is the first AMOLED display with 144 Hz on a smartphone. The display also has a 300 Hz touch sampling rate, 243 ms touch latency, 800 nits peak brightness, HDR10 + support, and DCI-P3 compatibility. It provides visually stunning experiences while watching movies, playing video games, or performing other screen-based activities.
ROG Phone 5 has an AMOLED display with excellent viewing angles and a 2448 x 1080 pixels resolution, enabling entertainment and gaming visuals to appear sufficiently sharp. Without question, the hue is brilliant, gorgeous, and lovely. However, very few gaming smartphones have more excellent resolutions in this price range. In reality, there is no cost reduction in the display portion.
Asus ROG Phone 5 Performance
As a smartphone for gamers, the ROG Phone 5 is anticipated to deliver the highest performance, as gamers cannot settle for anything less. So, as anticipated, the gadget is powered by Qualcomm's high-end Snapdragon 888 CPU, which can deliver superior performance while being more energy-efficient than its predecessor?.  The memory is comprised of LPDDR5 RAM up to 12 GB and USF 3.1 internal storage up to 256 GB, allowing for rapid loading of saved game data and app launches.
ROG Phone 5's Snapdragon 888, Qualcomm's first using a 5nm manufacturing process, performed admirably. It is simple to perform extensive multitasking, video streaming, and hours of nonstop gaming on this gadget. The processor's Adreno 660 GPU can render visuals for demanding games such as Call of Duty Mobile, Genshin Impact, Asphalt, etc. Regarding software, there are fewer bloatware and applications. There are several themes that users may utilize at their discretion.
Asus ROG Phone 5 Camera
The Asus ROG Phone has a poor track record regarding its camera performance. The device sports a triple-back camera configuration. It has a primary sensor of 64 MP, an ultra-wide sensor of 13 MP, and a macro sensor of 5 MP. The 64 MP sensor produces high-quality images. Both the 13MP Ultra Wide sensor and the 5MP macro sensor perform admirably. It is acceptable to shoot photographs both during the day and at night.
There are also some enhancements to the video shooting section. It is possible to record 4K videos at 30fps and 60fps. 8K video can be recorded at 30 frames per second. Motion Track, Pro, Macro, Pro Video, Night, and Portrait are available shooting modes. The camera setup of the Asus ROG Phone 5 is satisfactory overall.
It is not the best smartphone camera on the market, but it has improved over prior generations. There was room for improvement in terms of color accuracy. Because, occasionally, the colors in the camera appear pretty different, which is a little strange. Ultimately, these smartphones are not designed for photography.

Battery
Running all of these functions consumes substantial energy, and gamers require batteries that can last for hours of uninterrupted gameplay. The ROG Phone 5 does not disappoint in this regard. On the inside, the 6,000mAh MMT battery is divided into two 3,000mAh batteries. The ROG Phone 5 may have the most extended battery life of any flagship by battery life and performance.
According to Asus, the phone is optimized to charge 100 percent in 90 minutes. Even after a full day of use, the phone still has some remaining charge. However, if you like to engage in lengthy gaming sessions, you must keep the phone constantly charged. In addition, the phone includes limited charging and scheduled charging.
Final Verdict
Asus has once again demonstrated that it could deliver a gamer-centric flagship smartphone with all the essential features and many extras. We can confidently recommend it to anyone who is seeking not only a smartphone designed for intense gaming but also battery performance, a 144Hz AMOLED display, a high-end chipset, and more.
ROG Phone 5 is unlike other smartphones on the market and it contains several features that cannot be found elsewhere. It features a truly remarkable design, performance, and battery life. It is the most customizable smartphone available. The camera performance must be improved because it is subpar and still requires improvement.
Asus ROG Phone 5 | Best Multi-tasking and Gaming Phone