---
It is tough to purchase an Android tablet in India because most brands are either underpowered or costly. If searching for a new Android tablet, the Nokia T20 Tablet is a trustworthy option. The Nokia T20 Tablet is an inexpensive entry-level tablet with a 10-inch FullHD display, a metal chassis, and the latest OS, Android 11.
Nokia T20 Tablet: Design
The design of the Nokia T20 is simple and lightweight. It only weighs 465 grams. A lightweight tablet that we can hold in our hands for extended periods. It has a metal body with a luxury feel and is finished in an elegant dark blue color. The only color currently available is Deep Ocean. It is a somewhat subdued hue, consistent with the style Nokia has typically exhibited.
The volume rocker and microSD card slot are protected by a tiny plastic cover that houses the antennas. It contains a standard 3.5mm headphone jack and a USB-C connector on the right. It is 7.8mm in thickness and weighs 465g. No fingerprint reader is present. However, it may be unlocked via webcam using facial recognition. However, this method is not exceptionally safe. The Nokia T20 boasts two side-mounted speakers that provide a genuine stereo separation. The sound quality is decent for the price but could be improved.
Nokia T20 Tablet: Display
The tablet's display is unquestionably its most essential and finest feature. The display of the Nokia T20 is a 10.4-inch IPS LCD with a maximum brightness of 400 nits. The user can view content with up to 2K resolution and high crispness. The low blue light certification of this display protects our eyes when reading.
The Nokia T20 sports an IPS display with good viewing angles and a 2000 x 1200 pixels resolution, enabling text and icons to seem sufficiently sharp. However, very few tablets have a more excellent resolution in this price range. In reality, there is no cost reduction in the display area.
Nokia T20 Performance
The Nokia T20 is a cheap entry-level tablet with decent performance based on its SoC. It is equipped with a UNISOC T610 CPU based on 12 nm technology. Complementing the processor are 4GB of RAM and 64GB of storage. There is also a model equipped with 4G LTE.
It is a beautiful tablet for entertainment. The chipset of the Nokia T20 is enough for video streaming and playing simple games. This tablet indeed lacks the power to run demanding games. However, at medium graphics settings, the game looks and performs well. The Unisoc T610 CPU provides an exceptional cold boot for launching programs and software.
Nokia T20 Tablet: Software
The Nokia T20 operates on Android 11 and is devoid of bloatware. Thus, it is nearly pure Android. Google Applications and Google Entertainment Space are the only preinstalled applications. Also featured is Google Kids Space, a mode for youngsters. In conclusion, the Nokia T20 is a perfect tablet for the family as it is priced reasonably.
The operating system performs surprisingly well, due in part to the robust chipset and the fact that it is pure Android without much customization. It's not equivalent to a high-end smartphone, but it's excellent for such a price.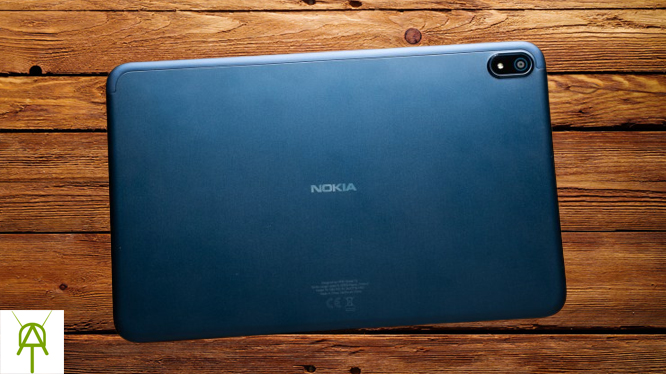 Camera
The Nokia T20 features two cameras, one on the back and one on the front. On the rear is an 8MP camera, while the front-facing camera is 5MP. Neither captures fantastic images, but they can make video calls and perform the basics. In the end, the goal of this device is not photography.
Suppose you need to take high-quality shots using the tablet's camera. In that case, we suggest downloading a photo-editing tool to boost the images' saturation. This tablet can record video in 1080p quality at 30 frames per second, which is astounding.
Although low-light shots are challenging on this inexpensive tablet, you can take decent photos in brighter conditions. There are few manual controls on the camera's UI. However, there is an expert mode for people who need to make extensive adjustments to their photographs.
Nokia T20 Battery
The Nokia T20 has an adequate 8,200mAh battery for tablets of its type. HMD Global claims that the battery will last approximately 15 hours with typical use or 10 hours during video playback. It offers a rapid charge of 15 watts, which is not the most powerful on the market, but it gets the job done. The battery will take around four hours to charge completely.
With regular use, the tablet's battery lasts a whole day. This tablet's charging speed is adequate, but it is still worthwhile after a full day of use. For instance, a two-hour charge provides around 55% battery life, whereas a four-hour charge provides entire battery life.
Final Verdict
These days Nokia seems to be doing a good work on phones and tablets. The Nokia T20 appears to be a family-friendly device that can be left unattended around the house. It is excellent for entertainment, and the battery discharges slowly. It's not the most appealing device on the market. However, it doesn't need to be because it's intended for customers who don't want high specifications or premium features.
If you work from home or your children attend classes, the Nokia T20 tablet is exactly what you need. Everything we receive on this tablet, especially the display, is of excellent quality. And suppose you are searching for a tablet with a bit more power. In that case, there are currently numerous excellent options on the market.
Is the Nokia T20 an effective tablet? At least it's pretty sturdy. Price-appropriate build quality, decent graphics performance, and pure Android are provided. Other elements, such as the display and speakers, are adequate for the price but could be improved. To buy Nokia T20 Tablet Flipkart: Click here
Nokia T20 Tablet Review | Best Affordable Tablet of the Year