---
Huawei has been the leading company in the smart wearable device market. This new Huawei Watch GT 3 has a solid display, power pack, and performance. The watch has been introduced in a cool new design with many compact features. Read this Huawei Watch GT 3 Review to know about Huawei Watch GT 3 Price and Huawei Watch GT 3 Specs.
Huawei Watch GT 3 Review: Design and Display
The Huawei Watch GT 3 has a rounded display, giving it a classic look. The watch is designed very beautifully. Counting from zero to 60 minutes has been given on the outer edge of the display. Due to this, the watch looks bezel-less even after having many bezels.
Two physical buttons, power and function, are on the watch's right side. With their assistance, the watch is operable. The watch's band is pretty distinctive. The entire watch band consists of several dotted holes. In this circumstance, people of various ages can wear a watch that fits comfortably on their wrist. The watch's advantage is its accurate data tracking. Additionally, owing to the strap's perforations, heat is reduced.
The strap is made of Fluoro rubber. The watch is offered in three colors; Black, Steel, and Gold. The watch's body is made up of Sturdy Plastic and Stainless Steel. At the same time, there is a flat glass on the top, which looks smooth and spectacular on edge.
Overall, you will get a premium feel while wearing the watch. If we talk about the technical part of the display, it will get a 1.43-inch AMOLED touchscreen, which will have a resolution of 466 x 466 pixels. The dimension of the smartwatch is 45.9 x 45.9 x 11 mm, weighing 35 grams.
The watch has excellent brightness. In other words, there will be no issue if you read data on the watch during the day. An always-on display will be an option for the watch. However, this can lead to quick battery depletion in the watch.

Huawei Watch GT 3 Review: Software and Performance
Huawei Watch GT 3 uses the Kirin A1 chipset, which has been specially designed by the company keeping in mind the wearables; this chipset delivers high performance and consumes very little battery. Moreover, its chip design and Power Saving Algorithm automatically manages power and provides long battery life.
The Watch GT 3 has 32MB of RAM and 4GB of internal storage, which is perfect for such wearables. HarmonyOS 2.0 has also been used in the watch. The UI of the watch is quite basic and easy to use. Swiping the watch face from left to right provides basic information like how many steps have been taken, how many calories have been burned, average heart rate, stress level, and weather information. Widgets and gestures can also be customized to your preferences.
In addition, swiping up displays a list of notifications, while swiping down displays battery statistics and settings. Additionally, the Watch GT 3 contains a loudspeaker. Additionally, Wi-Fi connectivity is unavailable. The watch is connectable via the Huawei Health app. The watch features Bluetooth and GPS connectivity; however, no navigation app can be installed. There is always the option to change the Huawei watch's theme, which is accessible via both the watch and the app.
Huawei Watch GT 3 Review: Fitness and Monitoring
Fitness-wise, the Huawei Watch GT 3 is quite fit. It will have approximately 100 workout modes, including Exercise Record, Heart Rate, Sleep, Weight Stress, and SpO2, which provide extremely precise fitness data. Most of the phone's features, including calling and texting, are accessible. However, the Watch cannot receive the call. The Watch features multiple modes for both indoor and outdoor activity. In these modes, users' data from a week to a year is collected to view their fitness history.
The Watch provides various daily information, including running, walking, and climbing. The Watch GT 3 comes with a water resistance rating of 5ATM, which means that the Watch can be worn for a short period in deep water. In other words, the Watch will be fine for swimming in less deep water. But it will not be able to work in much depth. Music option has been given as a feature in the Watch, but due to the lack of speakers, the Watch will have to be connected to wireless headphones for music. Only then you will be able to listen to music.
SpO2 sensor has been given in Watch GT 3. This kind of new feature measures the blood oxygen saturation in the body. It measures the amount of oxygen in the body. Usually, people would have felt less of the need for this feature, but sometimes it can be useful. With the help of this feature, you get information about the health of your body. Also, respiration can be traced when there is an outbreak of air pollution across the region. In such situations, this feature can prove to be very helpful. This type of feature is found in many premium smartwatches.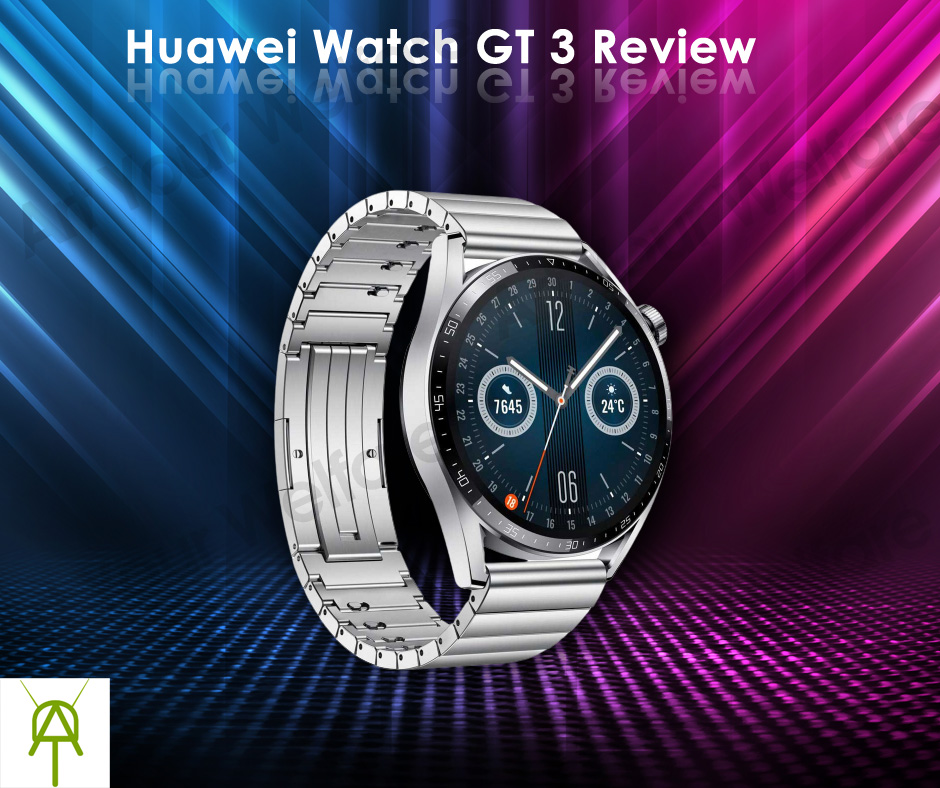 Huawei Watch GT 3 Battery Life
Huawei claims to get two weeks of battery in the Watch GT 3. But on average use of the watch, it was found that it gets a maximum battery life of one week. However, battery life also depends on the use of the watch. For example, if you Always use On Display and listen to songs, the watch's battery drains quickly.
The non-removable 455 mAh Li-Ion battery included in the watch is not replaceable. Two hours are required to charge the watch completely. However, if 1-2 weeks of battery life are available after using several features, it meets the standard.
Comparison
| | | | | |
| --- | --- | --- | --- | --- |
| | Huawei Watch GT | Huawei Watch GT 2 | Huawei Watch GT 3 | Huawei Watch GT Runner |
| Display | 1.39 inches OLED | 1.39 inches OLED | 1.43 inches AMOLED | 1.43 inches AMOLED |
| Resolution | 454 x 454 pixels | 454 x 454 pixels | 466 x 466 pixels | 466 x 466 pixels |
| Weight | 46 g | 41 g | 35 g | 38.5 g |
| OS | Proprietary OS | Proprietary OS | HarmonyOS 2.0 | HarmonyOS 2.0 |
| Memory | 128MB ROM, 16MB RAM | 4GB ROM, 32MB RAM | 4GB ROM, 32MB RAM | 4GB ROM, 32MB RAM |
| Battery | 420 mAh | 455 mAh | 455 mAh | 455 mAh |
| Loudspeaker | No | Yes | Yes | Yes |
Why buy the Huawei Watch GT 3?
Suppose you engage in indoor and outdoor activities and desire a cheap, sporty-looking watch that indicates the time and keeps you linked to multimedia, similar to the Apple Watch. In addition to giving call and message information and having a lengthy battery life, the Huawei Watch GT 3 is a viable option. Moreover, the Huawei Watch GT 3 costs half as much as comparable luxury smartwatches and looks better than fitness bands. Buy the watch here: Huawei Watch GT 3 Amazon
Huawei Watch GT 3 Review – Cool Watch with Compact Features