---
Buying an Android tablet in India is difficult as most brands are underpowered or too expensive. Both make it difficult for users to get a quality experience at the right price. With its new house brand, Realme Pad is a premium product that provides excellent value for the money. Read on the Realme Pad Review to know more about Realme Pad Features and Realme Pad Specs.
If one is looking for a new Android tablet, a reliable option could be the Realme Pad. The touchscreen is very responsive and has a sensitivity setting that allows you to adjust how rough it registers your input. In short, the Realme Pad offers more value for money than any other tablet available in the budget segment.
Realme Pad Price: Price, colors and variants
Realme Pad is available in three configurations.
The base Wi-Fi only model at Rs.13,999 comes with 3GB of RAM and 32GB of storage.
The base LTE option with 3GB of RAM and 32GB of storage is priced at Rs.15,999.
The high-end variant with 4GB of RAM and 64GB of storage is selling for Rs.17,999.
Realme Pad comes in two color options: Real Gold and Real Gray. You can buy it here: Realme Pad Flipkart

Realme Pad Features: Specifications and software
The Realme Pad uses the MediaTek Helio G80 SoC and has up to 4GB of RAM and 64GB of storage. It is a gaming-centric tablet with dual-band Wi-Fi ac and Bluetooth 5 capability. Furthermore, the device supports 18W fast charging and 7,100mAh battery life.
The first tablet to use Realme UI, based on Android 11. Still, it looks like a stripped-down version of Realme UI on smartphones because it doesn't offer much of a variety of customization. In addition, as Realme continues to refine its tablet UI, the Realme Pad lacks some of the features found on the latest Realme smartphones.
Design of Realme Pad
The slim body design combined with a 10.4-inch screen makes it a very compact tablet. The Realme pad also features a brushed metal back that doesn't feel slippery. In addition, its light weight of only 440 grams makes it easy to carry with one hand like a phone.
Realme Pad improves on the foundation set with earlier tablets from this company. Now, we have a tablet priced on a budget with a premium look and feel.
The volume rocker is at the top left with the power button. There are two microphones towards the center, with a SIM card tray below. Look no further than the Realme Pad if one wants a tablet with a metal back. It has rounded corners and flat sides so the hand won't become uncomfortable after hours of use. Everything blends in well with the overall design of this tablet.
Display and sound quality of Realme Pad
The 10.4-inch WUXGA+ display delivers a bright and crisp picture-perfect for watching movies. Panda Glass allows the tablet to display even in bright sunlight. However, it lacks HDR capability. Despite this drawback, Netflix users can access HD content with Dolby Atmos surround sound speaker support. Overall, Realme Pad provides top-notch performance in terms of display and sound.
There are two noise cancellers, not just in spec, but Realme has done a good job reducing background noise.
Realme Pad Review: Performance of Realme Pad
The Realme Pad is a budget tablet offered by Realme. It has MediaTek processor power at its heart to ensure suitable performance for the price. For the money, the Realme pad offers better benchmarks than most smartphones.
Applications may unexpectedly stop or crash on the Realme Pad, but this issue can be resolved with future software upgrades. However, multitasking works well on high-end variants with 4GB of RAM.
The Realme Pad's gaming performance is subpar. The FPS games remained playable despite occasional stuttering and frame dips. Again, Realme Pad provides reliable performance at a reasonable price. In benchmark tests, for instance, the tablet achieved performance scores comparable to those of most inexpensive smartphones.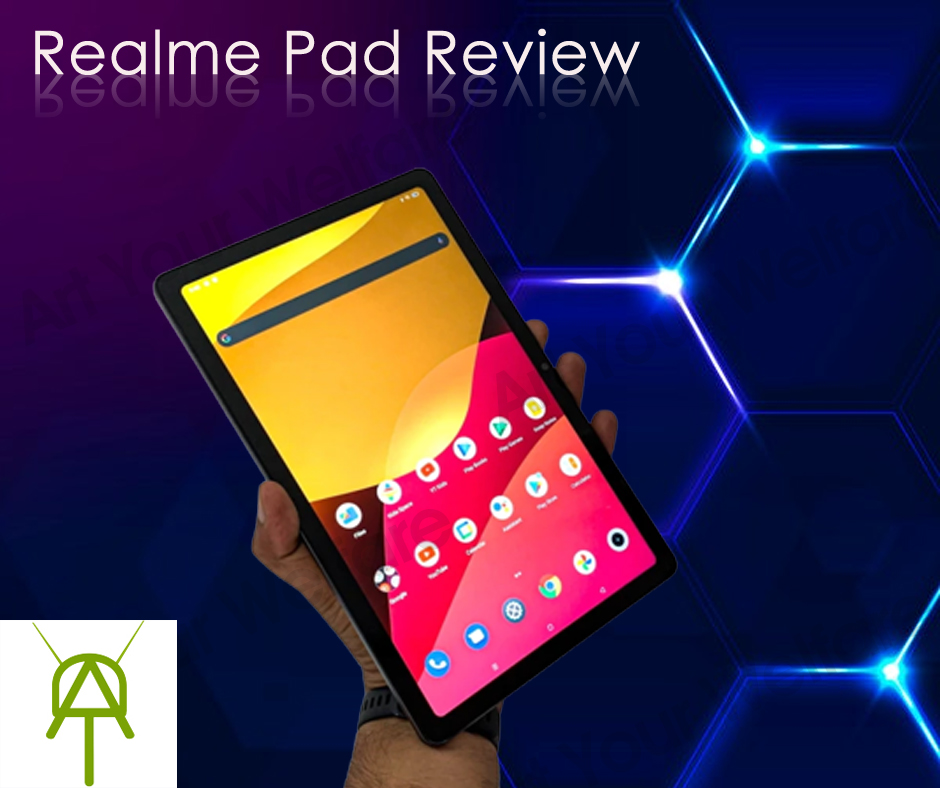 Camera quality of Realme Pad
The Realme Pad has an 8-megapixel sensor on both the front and the rear, in which image capturing is limited by the quality of the sensors. The camera interface has the advantage of simplicity with little manual control. However, it also includes an expert mode for those who need to tweak their photos. It provides only the fundamental ISO, shutter speed, white balance, autofocus, and exposure settings.
The Realme Pad has decent cameras; although low-light shots are hard to use, you can get better photos in higher lighting on this affordable tablet.
Battery life of Realme Pad
The Realme Pad has a 7100 mAh battery and comes with an 18W charger in the box. The tablet's battery lasts a day and a half with regular use. The charging speed on this tablet is decent, but it's still worth it after using the device all day. For example, a 30-minute charge gives about 22 percent battery life and a 60-minute charge gives about 45 percent battery life.
Realme Pad Review: Conclusion
The pricing on the Realme Pad starts at Rs. 13,999 in India, which is perfect for someone on a budget who wants to watch their favorite movies or listen to their favorite podcast without compromising on the performance.
Daily performance is not a problem, and the ultra-wide camera provides a great selfie experience. With LTE enabled, this tablet offers enough features for casual users to not feel like they bought an under-specced device. Realme Pad's brand value is the only factor holding it back. However, the device's capabilities are extraordinary.
Realme Pad Review – Best Budget Tablet with Adequate Performance