---
Motorola Moto G51 5G is the first smartphone made by Motorola which has a 120HZ display and 5G connectivity. It comes with a lot of options that are a step above the rest.  Is Motorola Moto G51 a good choice? Read this Motorola Moto G51 5G Review to know more 10 things other than 5G that you must be aware of prior to purchasing the Moto G51!
Motorola Moto G51 5G Price in India
The price of Motorola Moto G51 5G in India starts at Rs 12,249. It is available at the lowest cost through Flipkart in India in the festive season.
Motorola Moto G51 5G Review: Moto G51 Specifications
Display
The smartphone comes with an impressive 6.8-inch punch-hole screen that has minimal bezels. In terms of viewing, it comes with an IPS LCD that has an Full HD resolution of 080 x 2400 pixels (~387 ppi density). Additionally, the panel refreshes at 120Hz and promises smooth and seamless touch-screen interaction.
The screen is decent for outdoor visibility, but in most cases the screen will remain in full brightness. In indoor conditions, the automatic brightness remains at about 50%, which is lowered into the notifications panel. It has a hybrid SIM slot.
The Moto UI is smart. The initial few days, it will try to figure out how bright you like and what is needed, then adjust it to the best results. In general, it is working well, but you can be in control and lower the brightness.
Hardware Performance
Under the hood it is a Moto G51 5G that is powered by its Snapdragon 480+ processor, which is paired with 4GB of RAM and 64GB of storage (higher configuration not available as yet). This phone was the first phone to feature a Snapdragon the 480+ chip that will be available in India that makes it an exceptional feature in the price range.
When playing intense games like Need for Speed and switching on the main screen, the phone takes about a couple of seconds to change orientation. Maybe having 6GB of RAM would have been helpful.
If you plan to make use of it as an effective device, such as using WordPress, Business Suite, Analytics, Pinterest, Google Docs, it would be ideal for this purpose. It is virtually completely lag-free. Switching between the applications is very smooth. Stock Android deserves the credit!

Moto G51 Camera Performance
It comes with three cameras in the rear. The cameras include an initial 50MP sensor that has an f/1.8 aperture as well as an ultra-wide 8MP lens and a 2MP macro shooter. In the front it has a 13MP selfie camera. The cameras of the G51 5G come equipped with software enhancements that can modify or filter the smartphone.
In terms of recording of video footage, phones can record up to 1080P at 60 FPS. If you require stabilization, it will change your video into 1080p at 30FPS.
The most effective upgrade from Moto G10 Power is in the video and camera department. Moto G51 comes with a better focus and color dynamic range, as well as white balance are good at managing as well. Due to the camera's less polished application, the 60fps video does stutter a bit.
Build Quality
There are no more days where aluminum frames and glass backs were trendy. It is true that most budget phones have sides and back frames made of plastic. However, Moto is not that unique! The plastic used on the back, buttons, and the side panel are solid. There are no squeaks in the cover even months after the usage.
Compared to Moto G9 and G10 Power, Moto G51 build quality is better. G10 Power lacked the feeling in power button but it is not so with Moto G51.
Software Experience
The software available on Motorola phones is pretty much standard Android. There is the Facebook and Flipkart application preinstalled, which you can remove when you do not want to keep. In addition, there are also a few Moto modifications as you can see in the above.
Moto also comes with a variety of exclusive gestures, such as Chop Chop that activates the flashlight, and Quick capture to activate the camera, which could be controlled by turning your wrist and many more! Another feature that Moto has included to its Android-powered smartphones is ThinkShield. Secure your data from malware, phishing and other threats using ThinkShield for mobile devices.

Battery
Moto G51 comes with the capacity of 5000mAh, therefore, it should not be a problem. However, we were cautious due to the display's 120Hz refresh rate. The higher refresh rates mean greater battery.
What kind of battery backup do you anticipate using the Moto G51 battery test at 120Hz? If you are a heavy user who makes many calls and social media, as well as watching media through YouTube or Netflix If you are a heavy user, you could expect anywhere from 5-7 hour of uninterrupted screen usage.
But it is not just the standby time for your battery. It is when the screen is on. Standby time can last for three days; however, the screen's duration will be significantly lower.
Comparison with Motorola Moto G52 and Motorola Moto G42
| | | | |
| --- | --- | --- | --- |
| Comparison | Motorola G51 5g | Motorola Moto G52 | Motorola Moto G42 |
| Price | ?12,249 | ?13,999 | ?12,999 |
| Display | 6.8 inches, IPS LCD | 6.6 inches, P- OLED | 6.4 inches, AMOLED Display |
| Processor | Qualcomm Snapdragon 480 Plus | Qualcomm Snapdragon 680 | Qualcomm Snapdragon 680 |
| Battery | 5000 mAh, Li- Polymer | 5000 mAh, Li- Polymer | 5000 mAh, Li- Polymer |
| Camera | Rear camera- 50, 8, 2 MP. Front camera- 13 MP | Rear camera- 50, 8, 2 MP. Front camera- 16 MP | Rear camera- 50, 8, 2 MP. Front camera- 16 MP |
| Graphics | Adreno 619 | Adreno 610 | Adreno 610 |
| OS | Android V11 | Android V12 | Android V12 |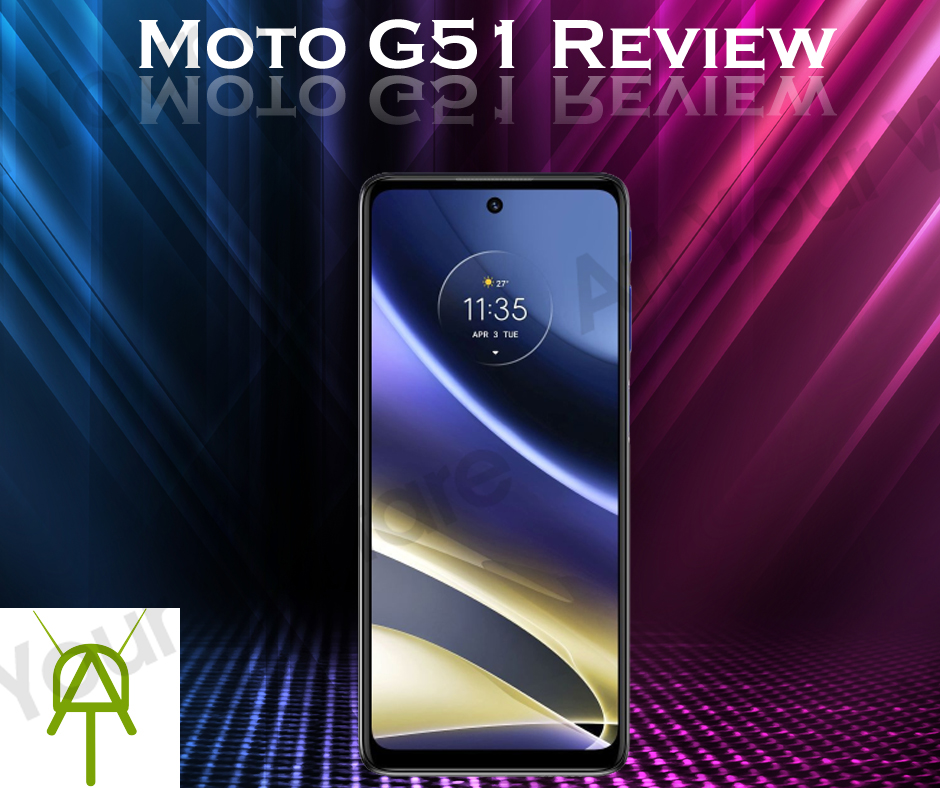 Motorola Moto G51 5G Review: Conclusion
Moto G51 5G has an excellent overall package. It is for those who would like to be connected to social networks while on the move. Since the phone can support carrier aggregation and the super-fast 4G technology, you will have no issues with connectivity. Soon, you will be able to experience 5G, so it will ensure that you are covered.
This phone is ideal for those who will be working with it for a moderate amount of time such as using Google Docs, Emails, taking PDFs for reading, or even gaming on the move as well as at home. It comes with a huge battery to power your applications.
Motorola Moto G51 5G Review | Cheapest 5G Dual Sim Phone