---
Folding Motorola Razr has gone official after being in the news for a long time. In a special event it was announced by the company itself. The third smartphone with a flexible screen this year.
However, Motorola Razr is one of those phones which offer a very different concept to that in Samsung Galaxy Fold or Huawei Mate X. After all, Motorola was praised since years as it had launced the first foldable smartphone which had created a memorable trend in the smartphone market. This helped the company grow in terms of technology and was also labeled as the company with a creative ideology consisting of premium designs that have not been introduced to the market until that particular time era.
The foldable Motorola Razr or Motorola Razr 2020 has a streamlined design that strongly features the Razr of 16 years ago and an impressive stand on it but it is substantially slowed by its high price, display, and the introduction of the Galaxy Z Flip.
[coupon couponid="581″ name="Motorola Razr (Black, 128 GB) (6 GB RAM)"]
What is actually a folding phone?
Amazing design as a foldable structure in smartphone that is obviously patented.
Designed with glass material and joined with resistant stainless steel.
Fingerprint scanner in the bottom chin section.
Thickness less than 14mm.
There have been many rumors about the launch of this new Motorola smartphone consisting a foldable design, which is transformed into reality i.e. Motorola Razr.
Screen
 Size: 6.2 "
Format: 21: 9
Screen type: POLED
Resolution: 2142×876
Pixel Density: 374 dpi
In the absence of one, the Motorola Razr has two screens. The main one is the 6.2 " pOLED with a resolution of 2,142 x 876 pixels with an aspect ratio of 21: 9. It is folded when we carry it in our pocket, and if we do not want to open it to check notifications, we can do it on the external screen, a gOLED panel with a resolution of 800 x 600 pixels and an aspect ratio of 4: 3.
Yes, it has a second gOLED screen with a decent resolution and 2.7 " display size.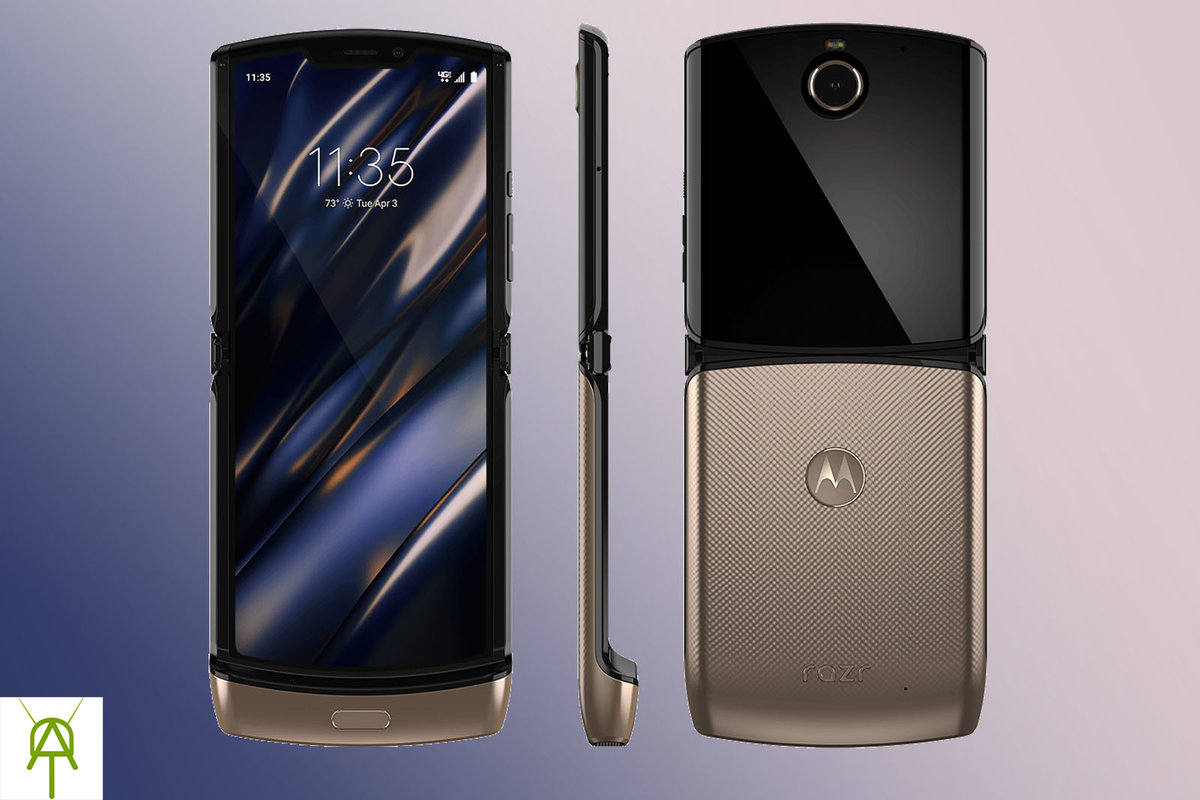 Software
Operating system: Android
SO version: 9.0 Foot
The Motorola Razr 2020 is powered with Android 9.0 Pie, as well as Motorola's own customized layout.
Hardware
 Processor: Snapdragon710
CPU 1: Kryo 360 Gold
Cores: 2
Speed: 2.20 Mhz
CPU 2: Kryo 360 Silver
Cores: 6
Speed: 70 Mhz
Storage:
RAM: 4GB
Internal memory: 64 GB
Camera
Rear camera:
Resolution: 16 MP
Opening: f / 1.7
Inbuild feature: PDAF, laser focus
Frontal camera:
We've got this smartphone with a single rear camera. It is a 16-megapixel sensor with an f / 1.7 lens and dual flash laser focus. We also have an internal camera for 5-megapixel selfies.
Power
Capacity: 2,700 mAh
Fast charge: YES
Version: 15 W
The battery of the Motorola Razr remains at 2,510 mAh. It consists of a 15 W charger that is very useful for fast charging and improving battery efficiency.
Connectivity and Sound
Bluetooth: 5.0
Wi-Fi: 802.11a / b / g / n / ac
USB: Type-C
FM Radio: NOT
Jack connector: NOT
The Motorola Razr will not be a 5G mobile, but it is a technology that is not yet present in many territories and will not be missed too much. It has dual band Wi-Fi, Bluetooth 5.0 and USB Type-C Port.
Regarding the durability of the device, which has been questioned in folding devices. Motorola ensures that the Razr has a long-lasting life that reaches above the current average of any other smartphone. Likewise, Motorola ensures that user will not have to take special care when using this incredibly designed folding smartphone.
Motorola Razr – sleek design and an incredible stand on